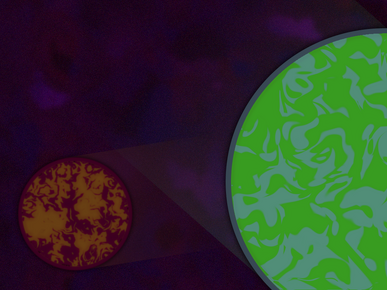 'Ѫʊӌҥұ-Ӿђҥ Ӌʌӽʊӌ' is a very weird verse within the Primordialverse. It's name cannot be transcribed to human phonetics, however, a close approximation to the actual pronunciation would be "Jtvblyotpng-Tkshtp Yoprtzblyo". This universe is relatively unstable and chaotic, The reason is becuase it has 7 allowed types of Reality Particles* and are all rare, exotic types at that.
*Reality Particles are 'allowed' types of particles which resides within a certain verse, any non-allowed types that enter a verse will be terminated aka dissasembled into its Primordium particles, E.G our universe has 1 allowed type; Strings.
Ƭ' Ҥғӽж-Ҥӌӽ
Ƭ' Ҥғӽж-Ҥӌӽ is the most dominant species within the verse, and have 3 arms, 2 fingers on each, and 12 tentacle like legs, the closest aproximation to a name would be "Fd Tpkyntzdzh-Tpyong". These creatures would be powerful enough to jump from the earth to the moon in a matter of seconds. They are all relatively good at magic as well. They are all at a kardashev scale of 4.8.