Note: The following is a merger of deleted low-quality pages into a higher-quality page.
some physicists have speculated that our universe might have 10 dimensions.
10-orthoplex
Dekeract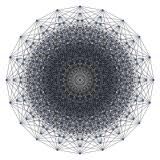 Dekeract is the 10-hypercube.
Hypervolumes
surpeton pentavolume =
surecton hexavolume =
surzetton heptavolume =
suryotton octavolume =
surxennon enneavolume =
surdakon decavolume =
Subfacets
Hendecaxennon
The hendecaxennon is the 10-dimensional simplex. It is also known as the pyroxennon under the elemental naming scheme.
Subfacets
11 points (0D)
55 line segments (1D)
165 triangles (2D)
330 tetrahedra (3D)
462 pentachora (4D)
462 hexatera (5D)
330 heptapeta (6D)
165 octaexa (7D)
55 enneazetta (8D)
11 decayotta (9D)