The Elementalverse is a huge fractal verse located in an obscure corner of our Multiverse. It has four different galaxies: the Frigid Galaxy, Inferno Galaxy, Gust Galaxy, and Rock Galaxy. Each of these galaxies have extreme elemental properties, being ice, fire, wind, and earth respectively. They each have their own types of species, planets and stars, and other assorted structures, either man made or natural.
Frigid Galaxy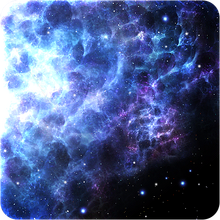 The Frigid Galaxy is located in the centre of Elementalverse, and is the ice-based galaxy. Here, massive chunks of ice randomly drift through space, occasionally smashing into planets and destroying them. It is constantly at absolute zero in temperature.
Types of Planets
Terrestrial Planets
These planets are made of solids, namely ice and snow. Their entire surface is covered in ice and snowy mountains, with treacherous cave systems below, containing useful ores. It is impossible to heat these planets up, and any humans journeying to them would freeze instantly. However, life does exist here. Elephant-like creatures dwell on the mountains, covered in thick wool. Ones similar to pigs travel on the surface, a useful source of food for the other creatures there, which are large, green lizards. In the caves there are bats seemingly made of ice, but really, they are just wholly frozen over. Most of these creatures can survive without food except the lizards, and all can survive without water.
Dwindling Gaseous Planets
Similar to gaseous planets of other verses, though they have shrunk to a very small size due to the extreme cold. They are still able to fuse hydrogen and helium to basically stay at this size, albeit still shrinking a small amount. This means that eventually these planets will become entirely extinct.
Types of Stars
Endothermic Stars
The most common type of star here, 90% of stars are endothermic, and around 7 planets orbit them on average. These cool down the planets around them yet further. They usually exist for 6 - 7 years before going supernova. Their temperature is seen as absolute zero, but could possibly be yet colder.
Thermic Stars
Yes, surprisingly, regular stars can exist in the Frigid Galaxy of the Elementalverse. They are able to un-freeze the planets around them the tiniest bit, but they are still very cold. These have a much greater lifespan than the endothermic stars, at 9 years on average. Their temperature is 4,568 degrees Kelvin on average.
Inferno Galaxy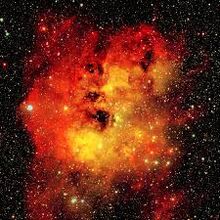 The Inferno Galaxy is located in the top right of Elementalverse, and is the fire-based galaxy. It is very hot, at 6,789 - 8,888 degrees Kelvin, and occasionally, massive tornadoes of fire will sweep across it. These tornadoes are usually above 10,000 degrees Kelvin.
Types of Planets
Terrestrial Planets
These are, once more, made of solids, but this time those are rock and hard lava. They are much larger than those of any other Elementalverse galaxy, and their atmosphere are searing, releasing steam into space. Beneath the ground, there is a ton of magma, and erratic cave systems containing metals such as iron and titanium. This Verse also has a unique ore, dubbed Infernium, which is very tough and can constantly sustain a high temperature, able to generate large quantities of energy. As for inhabitants, huge, dragon-like creatures swoop across the sky. These creatures do not need water or food, and absorb energy from the heat these planets produce itself. Boars with thick, rock-like skin roam the ground, devouring rocks for food. There is also squid-like creatures that use their strong tentacles to pull themselves across the ground, eating the boars for food.
Gaseous Planets
These are the largest type of planet in the galaxy, and more common than terrestrial planets. They burn extremely quickly, fusing hydrogen, helium, and carbon. The gas that comprises them is highly radioactive, and is routinely gathered by the creatures from the Rock of Dimensions for use in weapons and other technology.
Lava Planets
Balls of lava floating in midair. The lava on the edges is solidified, so that the liquid inside cannot fall out. Many organisms inhabit these, such as eels that have skin made of obsidian, able to resist the lava, and huge dolphins with venom stingers and the same hard plating on their skin that eat those eels, as well as small fish, prey for both.
Types of Stars
Thermic Stars
Similar to those of the previous galaxy, but much larger, and much hotter. These can have 16 - 20 planets orbiting them, and emit heat up to 9,563 degrees Kelvin. They produce the gigantic fire tornadoes (dubbed "Infernadoes") of this verse occasionally, which are capable of melting entire planets and other stars.
Neutron Stars
Every star that collapses here will become neutron stars. They are incredibly small, and no longer generate heat or Infernadoes. They emit tons of radiation. They are still very hot, and can even pick up planets to orbit them again. These occasionally collapse into black holes, but this is very uncommon.
Other Structures
The Stronghold
Built by several random cosmic entities exploring this verse, the Stronghold is a gigantic metal structure orbited by 5 stars that was created with the sole purpose of generating absurd amounts of energy through heat (by using a large quantity of Infernium) to be used in building projects. Long forgotten, the Stronghold stays shackled to the borders of the verse, awaiting someone to venture into it and discover its secrets. However, eventually the stars orbiting it will collide with the Stronghold, destroying it forever.
Gust Galaxy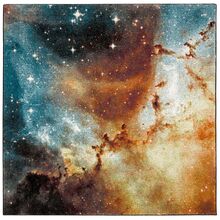 The Gust Galaxy is located just below and to the left of the Frigid Galaxy, and is the smallest Galaxy in Elementalverse, as well as the wind-based galaxy. It has a moderate temperature, at 1922 to 2444 degrees Kelvin. It has huge, unbearable wind gusts that constantly knock planets and stars all over the place.
Types of Planets
Terrestrial Planets
These habitable planets are made mostly of dirt, with rock beneath the surface and scarce patches of grass, and rolling hills. Typical dog-like, small creatures roam the surface, prey to the many parasites that also inhabit these. Beneath the surface are many useful gems like rubies, diamonds, and sapphires. Intelligent creatures have built towns underground, and these creatures appear similar to humans albeit a bit taller and with two extra arms. These planets are most susceptible to the wind of the Gust Galaxy.
Sea Planets
Just huge, huge seas that fill almost the entire planet, with a few islands. These have Earth-like eels, fish, and sharks, as well as the same humanoid creatures mentioned before, which live on the islands, and have built temples underwater. The water from these planets can fly up into space when the winds blow hard, but other than that, it doesn't effect these planets much. On the seabed, an incredibly tough metal known as Durumium can be found, which is what is used to build the humanoids' underwater temples.
Types of Stars
Protostars
Protostars are surprisingly the most common stars in this galaxy, making up 65% of all the stars. They can almost never fully form into real Stars because of all the wind. They usually have 2 - 3 planets orbiting them and release a small amount of heat.
Thermic Stars
Making up 15% of the stars are classic thermic ones, fusing gases and burning. These have 4 - 5 planets orbiting them, and are hotter than those of the Frigid Galaxy, but colder than those of the Inferno Galaxy, at 6,785 degrees Kelvin on average.
Neutron Stars
Sometimes the Protostars linger for so long without becoming a star that they become superheated Neutron Stars with only 1 - 2 planets orbiting them. These are 7,856 degrees Kelvin on average, larger than those in the Inferno Galaxy, and only very rarely become a black hole. They make up 20% of this galaxies' stars.
Rock Galaxy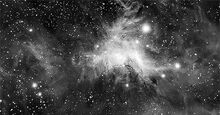 The Rock Galaxy is the largest Elementalverse Galaxy, and located in the bottom right. It is the earth-based galaxy. A huge natural superstructure called The Rock of Dimensions floats aimlessly through this galaxy. The Rock has the ability to create a bubble around itself in which dimensions can be freely altered by anyone within. It also can exist perfectly fine on every dimension at once, despite being an 8-dimensional object.
Types of Planets
Terrestrial Planets
Essentially gigantic rocks with tons of extremely tall and wide mountains. These can have 4 possible biomes - either snowy, barren, overgrown, or regular. Usually, a whole planet is one biome. The snowy planets are cold, at -132.5 degrees Kelvin, and have a thick layer of snow covering the surface. Here, woolly, wolf-like creatures thrive by eating smaller organisms, such as dog-like creatures, or the large birds these planets have to offer. The barren ones have no life, and are hot, at 989 degrees Kelvin. They are also extremely radioactive, with caves offering metals like Radium, Thorium, and Plutonium. The overgrown ones have many FRUIIT trees growing, where FRUIITS grow and fall off the tree, to be eaten by the humanoid, rather unintelligent species that inhabits these. Caves have basic materials like Copper and Iron. The trees here are made of a very tough wood. The regular ones are literally just rocks with patches of flora, and caves having a large array of metals to collect.
Gaseous Planets
Gaseous planets burn solely Carbon to exist, and are therefore quite small, and very rarely orbit a star. They are made of a slightly radioactive, purple gas, that is at 678 degrees Kelvin on average. Within these are buried small rocks made of very useful materials like titanium, radium, Infernium, neutralized (Un-neutralizable) Corruptite, and more.
Types of Stars
Thermic Stars
These stars are relatively hot, at 6,857 degrees Kelvin on average, and usually have 6 - 16 planets orbiting. They burn Carbon to exist, but at a much faster rate than the Gaseous Planets, and are very large. They sometimes move, and sometimes actually orbit the Rock of Dimensions. Circumbinary planets can occasionallt occur with these stars due to their huge size. They make up 70% of all the stars.
Endothermic Stars
Making up 20% of the stars, these are much smaller than the Thermic ones, and at absolute zero. They mostly appear near the Rock of Dimensions, and can have 4 - 6 Planets orbiting them. All the planets around them are snowy biome.
Brown Dwarfs
When stars collapse here, they most commonly become brown dwarfs, which fuse deuterium and lithium to burn, having only one planet orbit them, if any planets at all. They make up 10% of all the stars here, and are most commonly drawn to the Rock of Dimensions.
Other Structures
The Rock of Dimensions
A massive cosmological superstructure with many entire solar systems orbiting it, it releases both heat (up to 1,002 degrees Kelvin), and cold (up to -75 degrees Kelvin), and shifts dimensions around itself. Any being that enters it's "bubble" can control the dimensions of things around them. There is a sprawling civilization of humanoid creatures on the Rock, and only their king can swap the dimensions. If anyone else does, it is considered treason. They kill animals from other planets for food, and do not require water. They also journey to other galaxies, particularly to gather Infernium and Durumium, and contact other civilizations.
Uses
Over time, many varying civilizations have ventured into the Elementalverse for a great many purposes. These include the following:
Mining
This is the most common reason for going to this verse. It has high quantities of metals like titanium, copper, iron, and radioactive metals, as well as the unique ore Infernium. Infernium is combined with palladium to make a very durable alloy, Durumium, or combined with thorium to make Fergusium, which is capable of generating even more energy.
Gathering Other Materials
Besides the metals, this verse has many other things to offer, such as radioactive gas and high quantities of magma and water, as well as the trees from the Rock Galaxy offering FRUIITs and hard wood.
Contacting Other Civilizations
As we know, many civilizations, notably that of the Rock of Dimensions, live in Elementalverse. Contacting these can prove useful for trading, buying and selling, getting advice, paying for help in war, and more.