m

(6 intermediate revisions by 3 users not shown)
Line 1:
Line 1:
−

The '''Extended Universe Size Index''' ('''EUSI''') is a number, which indicates the ''deepest nestation of other verses within a specific verse.''

+

The '''Extended Universe Size Index''' ('''EUSI''') is a number, which indicates the ''deepest nestation of verses within a specific verse.''

−

[[File:Extended universe size index.png|thumb|302x302px|An example of the EUSI.]]

+

[[File:Extended universe size index.png|thumb||An example of the EUSI.]]

 

It can be used to tell the size of a universe, without needing to say its size, due to most verses having ''beyond infinite sizes'', or ordinals/cardinals that ''aren't named yet''.

 

It can be used to tell the size of a universe, without needing to say its size, due to most verses having ''beyond infinite sizes'', or ordinals/cardinals that ''aren't named yet''.

 
+
 
+

EUSIs aren't confined to just verses either, they can be applied to other containers, boxes, structures (artifical or not), etc.

 
 
 

== Definition ==

 

== Definition ==

−

We define a function <math> \psi(\alpha) = \alpha + 1</math>, now we extend it to

+

We define a function

 
 
−

<math> \psi(\alpha,\beta,\gamma \cdots \delta) = \beta \to \psi(\alpha-1,\beta,\gamma \cdots \delta)</math> fixed point.

+

<math> \psi(\alpha) = \ 1</math>

 
+
 
+

<math> \psi(\alpha,\beta,\gamma \cdots \delta) = \psi(\alpha-1,\psi(\alpha,\beta,\gamma \cdots \delta),\gamma \cdots \delta)</math>

 
 
 

<math> \psi(0,\beta,\gamma \cdots \delta) = \psi(\beta,\gamma \cdots \delta)</math>

 

<math> \psi(0,\beta,\gamma \cdots \delta) = \psi(\beta,\gamma \cdots \delta)</math>

Line 20:
Line 24:
 

<math>\psi(\Omega^{\Omega^{\Omega}}) = \psi(\Omega^{\Omega^{\psi(\Omega^{\Omega^{\cdots}})}})</math>

 

<math>\psi(\Omega^{\Omega^{\Omega}}) = \psi(\Omega^{\Omega^{\psi(\Omega^{\Omega^{\cdots}})}})</math>

 
 
−

== Examples ==

+

== ==

 
+

EUSIs can obviously be broken down into ordinals / cardinals after they've been fully decomposed. The article of these is [[User blog:Leftunknown/EUSI equivalences|here]].

⚫
 
 
+

==Examples==

⚫
 
 
+
⚫
 
−

* [[Omniverse]] = <math> \psi(1,0) </math>

+

*[[]] = <math>0</math>

−

* [[The Box]] = <math> \psi(2,0) </math>

+

*[[ ]] = <math> \psi(0)</math>

−

* [[MegaBerryverse]] = <math> \psi(\omega,0) </math>

+

*[[]] = <math> \psi()</math>

−

* [[Absoverse]] = <math> \psi(1,0,0) </math>

+

*[[]] = <math> \psi(1,0) </math>

−

* [[Cloudverse]] - <math> \psi(2,0,0) </math>

+

*[[]] <math> \psi(,0) </math>

 
+

*[[The Pentagonal Hexacontahedron]] = <math> \psi(2,0)+\psi(540)

 
+

</math> (according to [[The Official Hierarchy|TOH]])

 
⚫
 
⚫
 
⚫
 
+

*[[Nvgngyu]] = <math> \psi(3,0,0)</math>

 
+
 

[[Category:Leftunknown pages]]

 

[[Category:Leftunknown pages]]

 

[[Category:Verse]]

 

[[Category:Verse]]

 

[[Category:End-All-Be-All]]

 

[[Category:End-All-Be-All]]

 
+

[[Category:Index]]
---
Revision as of 06:28, 22 April 2021
The Extended Universe Size Index (EUSI) is a number, which indicates the deepest nestation of verses within a specific verse.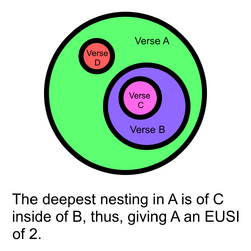 It can be used to tell the size of a universe, without needing to say its size, due to most verses having beyond infinite sizes, or ordinals/cardinals that aren't named yet.
EUSIs aren't confined to just verses either, they can be applied to other containers, boxes, structures (artifical or not), etc.
Definition
We define a function
After this, we can create another extention, by borrowing some things from other functions, such as the veblen function, by asserting:
EUSI in number form
EUSIs can obviously be broken down into ordinals / cardinals after they've been fully decomposed. The article of these is here.
Examples