Line 1:
Line 1:
 

The '''Extended Universe Size Index''' ('''EUSI''') is a number, which indicates the ''deepest nestation of other verses within a specific verse.''

 

The '''Extended Universe Size Index''' ('''EUSI''') is a number, which indicates the ''deepest nestation of other verses within a specific verse.''

−

[[File:Extended universe size index.png|thumb|302x302px|An example of the EUSI.]]

+

[[File:Extended universe size index.png|thumb||An example of the EUSI.]]

 

It can be used to tell the size of a universe, without needing to say its size, due to most verses having ''beyond infinite sizes'', or ordinals/cardinals that ''aren't named yet''.

 

It can be used to tell the size of a universe, without needing to say its size, due to most verses having ''beyond infinite sizes'', or ordinals/cardinals that ''aren't named yet''.

 
 
Line 6:
Line 6:
 

We define a function

 

We define a function

 
 
 
+

<math> \psi(\alpha) = \alpha + 1</math><math> \psi(\alpha,\beta,\gamma \cdots \delta) = \psi(\alpha-1,\psi(\alpha,\beta,\gamma \cdots \delta),\gamma \cdots \delta)</math><math> \psi(0,\beta,\gamma \cdots \delta) = \psi(\beta,\gamma \cdots \delta)</math>

−

<math> \psi(\alpha) = \alpha + 1</math>

 
−

, now we extend it to

 
 
 
−

<math> \psi(\alpha,\beta,\gamma \cdots \delta) = \beta \to \psi(\alpha-1,\beta,\gamma \cdots \delta)</math>

 
−

fixed point.

 
−
 
−

<math> \psi(0,\beta,\gamma \cdots \delta) = \psi(\beta,\gamma \cdots \delta)</math>

 
 

<math> \psi(0,0,\gamma \cdots \delta) = \psi(1,\gamma \cdots \delta)</math>

 

<math> \psi(0,0,\gamma \cdots \delta) = \psi(1,\gamma \cdots \delta)</math>

 
 
---
Revision as of 10:34, 11 March 2021
The Extended Universe Size Index (EUSI) is a number, which indicates the deepest nestation of other verses within a specific verse.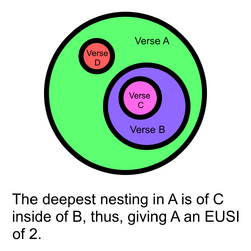 It can be used to tell the size of a universe, without needing to say its size, due to most verses having beyond infinite sizes, or ordinals/cardinals that aren't named yet.
Definition
We define a function
After this, we can create another extention, by borrowing some things from other functions, such as the veblen function, by asserting:
EUSI equations
but in general:
, where signify iteration.
For ranks with more than one elements, we have to signify which one to iterate:
If we say that
Examples