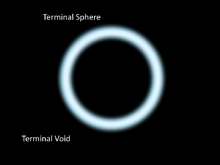 The Terminal Void is the space between Great Orbs, it is absolutely empty, but may be a new breeding ground of new universes. Terminal Voids range sizes, from football fields to the size of entire universes, depending how dense the Multiversal cluster you are in.
Community content is available under
CC-BY-SA
unless otherwise noted.