IMPORTANT
its dead :(
History
For the understanding of the Tyàtian Empire, we need to understand Tyàts' history.
The first species to develop was the square species, a species with only eyes, but can speak or hear. They also don't really have DNA. Even though they are only 4mm thick, they also have a non-euclidian space and are very powerful.
In 1671 EY (Earth Years), Treeversians landed on Tyàts. They made several colonies, with the first one being Tiaba (note: there is no "b" in the Tyàmeẁ language, however there is in the Treeversian's language).
The empire was made by the country of Hìqèpya ([çyqæ̃pja]), after warring many other Treeversian countries in the continent of Sìmnya ([syɴja]). It renamed itself to MèqTyàtsosz Waqarì in 1921 EY, after it conquered the last Treeversian country in Sìmnya.
Downfall
In 1954 EY, they made the fatal mistake of warring Galeszà ([ɢaʎeʃɑ]), which had a population of 8% squares. This was enough to defeat the entirety of the Tyàtian-Empirian army, and in 1955, the empire split into the original countries.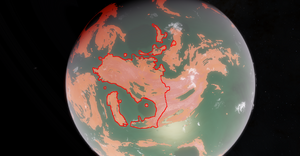 Species Apperance, Culture and Flag
They looked like Treeversian humans (normal, earthling humans). Their flag was a recolored flag of Rondônia, Brazil, however, it wasn't based on it and didn't even know Rondônia or Earth existed.