Fuzzo's Cosmology Points And now I will tell a tragic tale where all of ADADADADADADADADAD was yeeted
So I was on my way to jet flying class when a duck walked up to a lemonade stand and he said to the man, running the stand: BOGN
The man asked what bogn was but the duck walked away. I walked through to forest and I was 27 years late for jet flying class. I failed because I crashed into area 51. A guard walked up to a lemonade stand and said:
The fitnessgram pacer test is a multistage aerobic capacity test that gets progressively harder as it continues.
The lemonade stand person said "NO, THIS IS PATRICK!" I yelled, "THIS IS SPARTA" and then ran away. Far, far away. Unfortunately, a snail found me and kidnapped me, and he brought me to an object show. A ehnjaosodopskdncm hit the ajaopalsndgydhegf in my sksopxlwamxhfueo's kshamoidgfgaj and everyone died except for me. I ran to a tempeeeel and found a zombie. I whejej and the zombie made me a zombie but I was not a zombie because the sun exploderedddeddeders
And so, new game begins. I chose a game of rickroll rick astley, and I got punched by a man called sanat. Sanat gave me some data:
| Monday | Tuesday |
| --- | --- |
| 64 bread slices | 82 bread slices |
| nothing | BIG BONER DOWN THE LANE |
I went to london and saw that I had a
chance of winning a nipple if I bet my 🤙🏾. I did that and I exploded. The last thing I saw was a human running at me saying "I LIKE YA CUT G"
Then I ate a cow in Venice.
Creepervilesavior
Miners just blocked me for 68 years because of a prank involving impersonation of ICan'tEdit (and swastikas), however the issue was resolved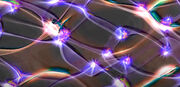 apple User:Fuzzo the fuzzy bee/the beehive
The spam section
Enemies
SpinozillaAegyptus
Endoram
Miners
Friends
Glitchy999 (The only person I never remember getting really angry at and insulting, and also we are also actually friends)
AD contest
User:Fuzzo the fuzzy bee/ADontest
Lore
My OC (Fuzzo, a Fuzzy bee)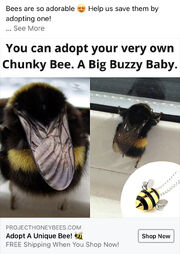 Why was I up for adoption?
My parents don't exist and haven't existed since never.
Am I still obese
Yes, I am still obese. Unnoticeably more obese than in that image.
How do I exist if you don't have parents?
I don't know. Interesting question.
What are my powers?
Extreme pollination and total domination Flying and also, by extension, not dying upon stinging something (which is probably important).
Fighting in several wars
The first war I fought in was the BU vs. AD war. On that war, I was actually with BU. I first fought in the battle of the box, where we attacked the box page on AD. I fought against Ice and Chalkosis in that battle, and injured Chalkosis but Ice was too strong and injured me. The next time I got to fight in was the battle of Pitch Black, where I fought off Glitchy999. AD ended up winning that war.
The second war I fought in was the AD revolutionary war. I was on AD's side. It was AD vs. the emerging VaD wiki that was trying to get independence. Many users on this wiki were on VaD's side, and I managed to barely fight off BestNoobReborn and I then got to face ICan'tEdit again (the one who injured me in the BU vs. AD war), and this time I was better at fighting and won. That happened in the battle of the bongus. I fought again in the Verse battle, where I fought off VoidsansXD and then barely got past Miner. Then, LeftUnknown ran at me, and we fought for a while, then LeftUnknown threw me into the FedExverse. VaD ended up winning the war, and that's why it is it's own wiki.
FANDOMverse (lore)
User:Fuzzo the fuzzy bee/FANDOMverse lore
Exist File
Ok... Basically everything has this file and it can be edited by pepperidge farms and the collective. The file can ybinubdfji
Ne