Vandal is a planet That is not contained by a universe. It floats around in the multiverse without a star.
Formation
About 64.9 billion years ago, some asteroids clumped together making a rocky planet, then a massive object ejected it out of its solar system into a nebula turning it into a gas giant, the star in the nebula was repulsive so it ejected it out of its galaxy and out of its universe.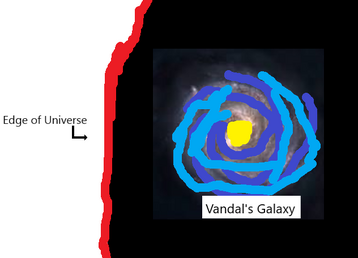 (See Bottom of Page)
Information
Vandal is a Gas Giant that used to be in its solar system that was only 651 Terameters (651 billion km) away from the nebula and the solar system was only 214 Terameters (214 billion km), the planet's universe expands at a rate of 189,631km/s (117,831mi/s) which is slower than light but still very fast but the star in the nebulas gravity was so strong that it made the plant travel at a rate of 211,871.km/s (131,650.5mi/s) which is still slower than light but faster than the planet's universe expansion.
It's also the farthest planet in orbit (when it used to orbit its star)